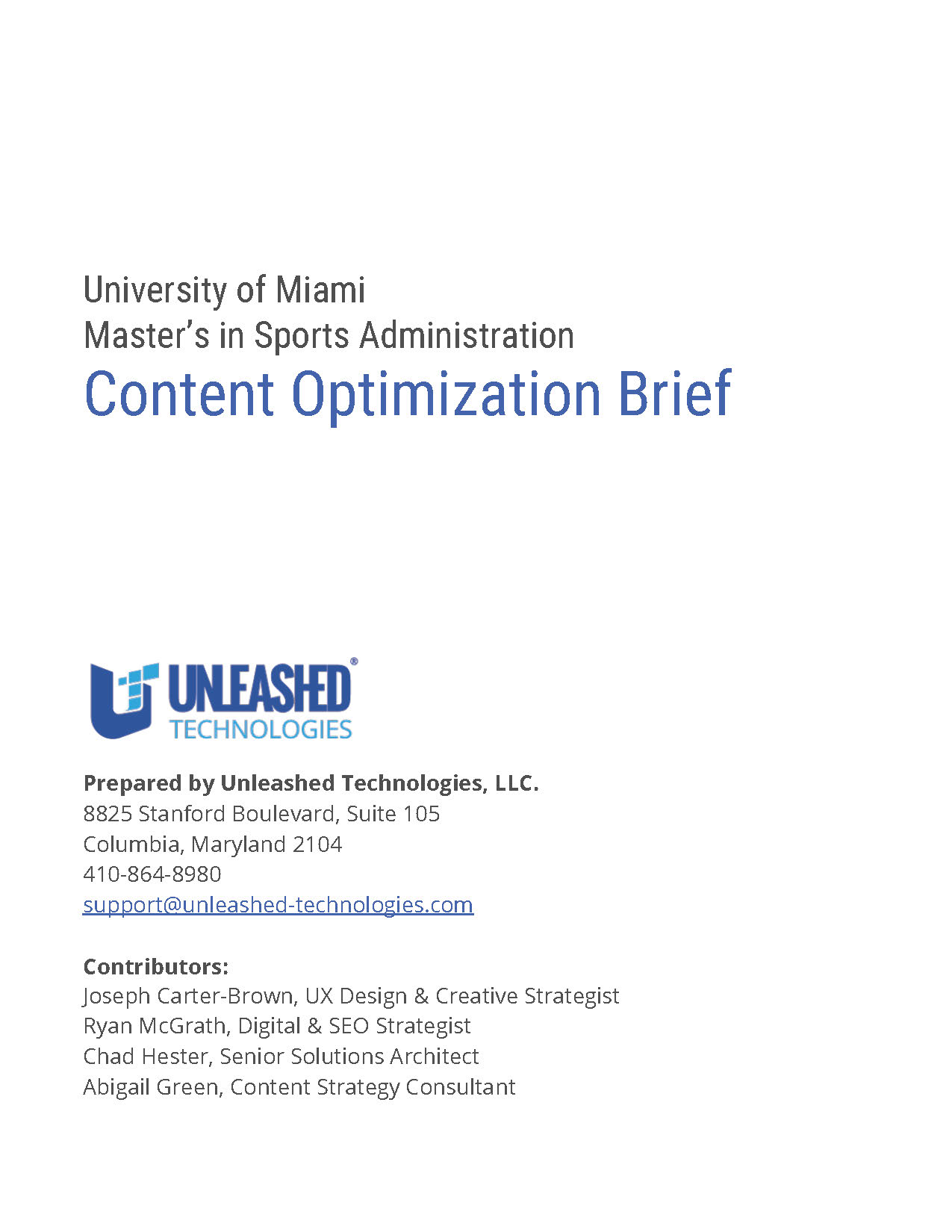 Organization: Unleashed Technologies
Client: Laureate University & University of Miami
What: UX Design and Content Audit  for the Masters in Sports Administration Online Program
Role: UX Researcher, Strategist, Proposal Writing & Design, Client Presentation, Project Management
Goal: Develop a comprehensive audit and review the UofM Masters in Sports Administration program content. Identify strategies to improve the user experience for prospective students by outlining a plan to boost inquiries and enrollments through the interaction and communication of the course.
Execution:
To execute this project I employed a number of traditional, and guerilla research tactics to define the problem, and build a content analysis & strategy.
To start, the focus was centered around understanding the overarching purpose and goals of the organizations involved, so as to work with empathy and accordance with their mission. During this early process, we simultaneously began delving into the UofM's Google analytics to gain a baseline set of data which suggested numerous pain-points, and problem areas. We verified some of the core business issues, which was accomplished through regular interviews with executive (product owner, c-level, etc.) and ancillary (customer support, account, and sales reps) stakeholders. Using information garnered from this early interview and research period, I worked to develop a unified goal, along with a plan of action using KPIs (Key Performance Indicators) to identify realistic measures of success, and KSAs (Key System Attribute) to identify the means in-which success would be attained.
After wrapping up the consensus-building stage, I began pulling demographic data both historical—based on the UofM's existing enrollment rosters—and quantitative data using Google Analytics demographics and affinity data to build 2 user personas that represented the types of students learned about during interviews and gleaned in student roster data, along with the assumptive insights as garnered from Google Analytics demographics data.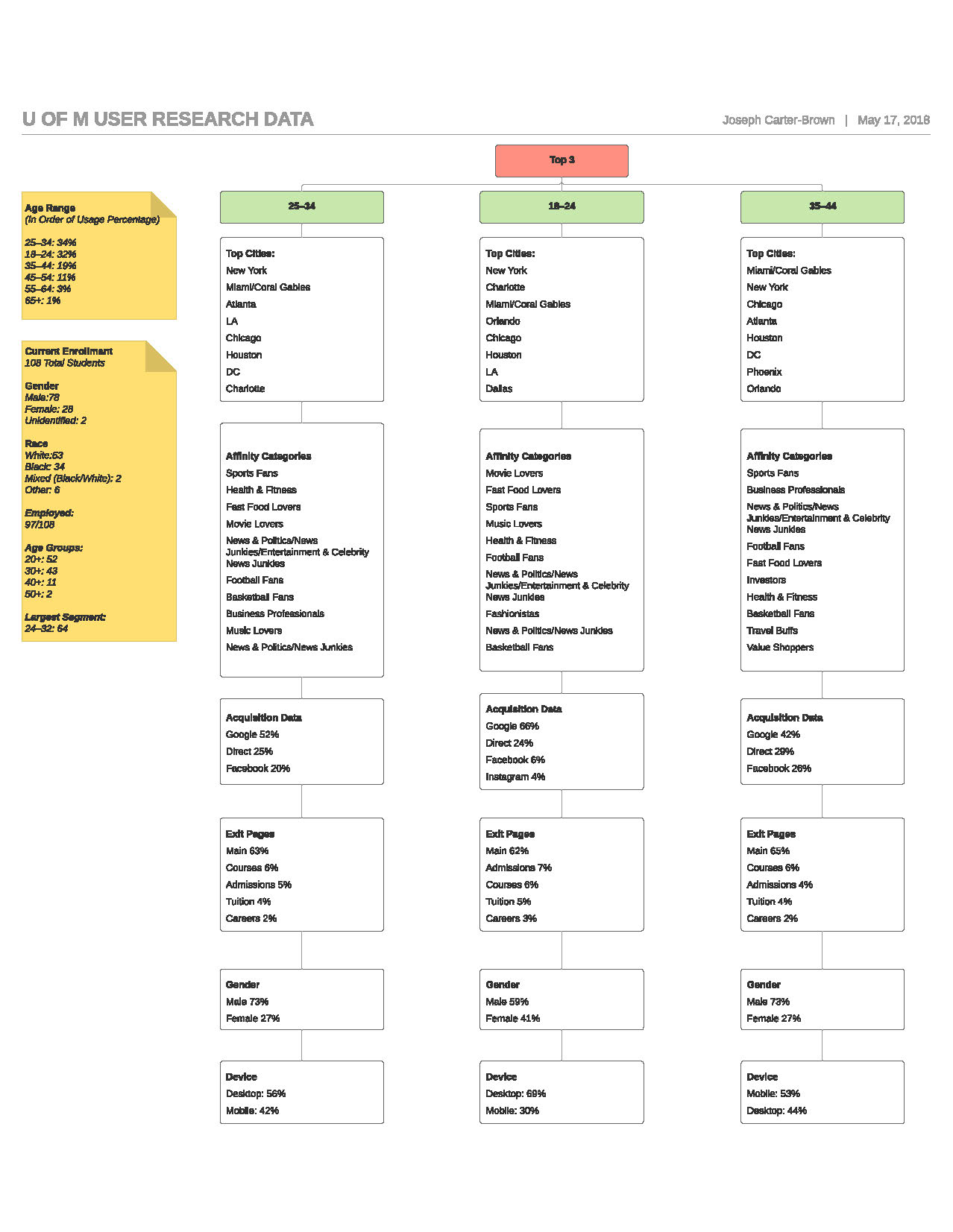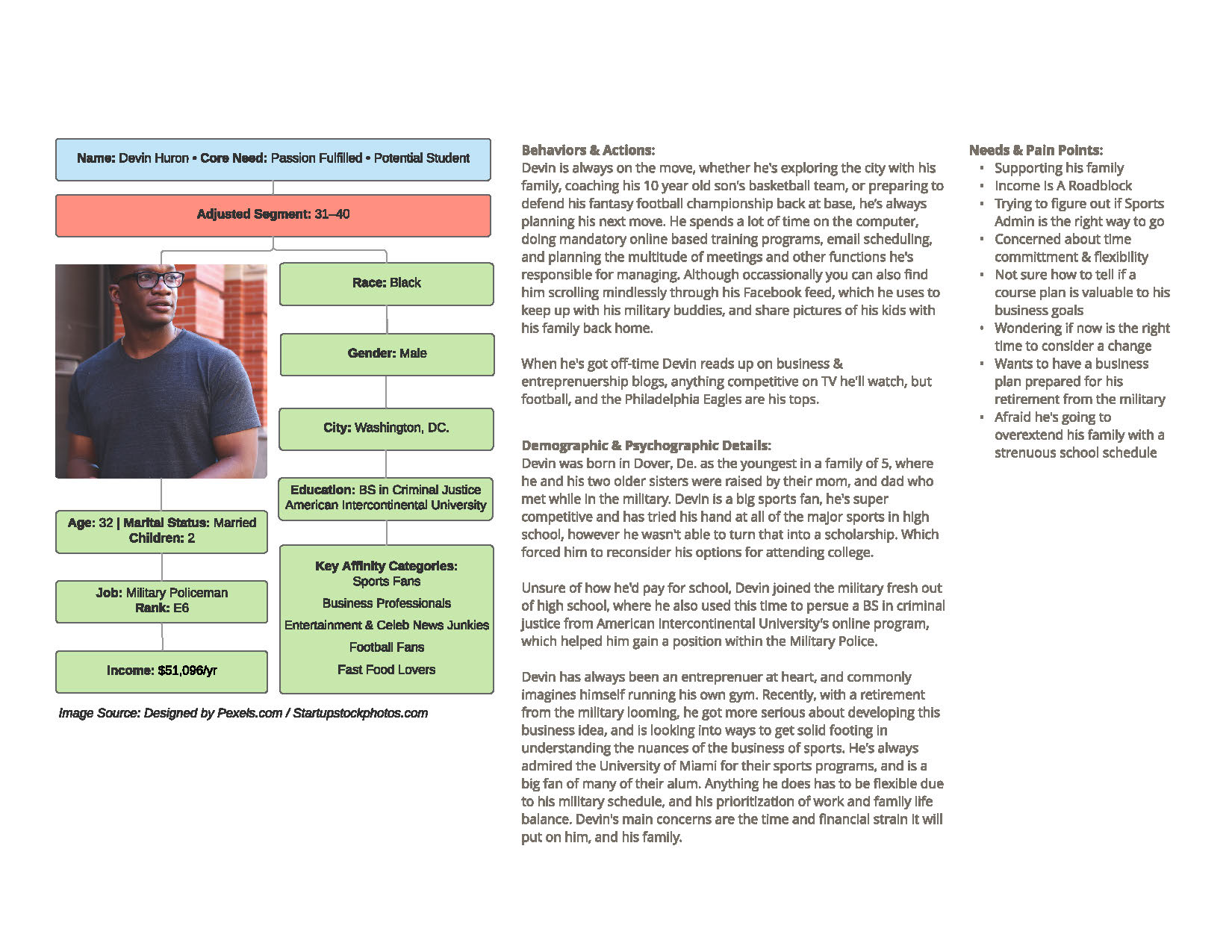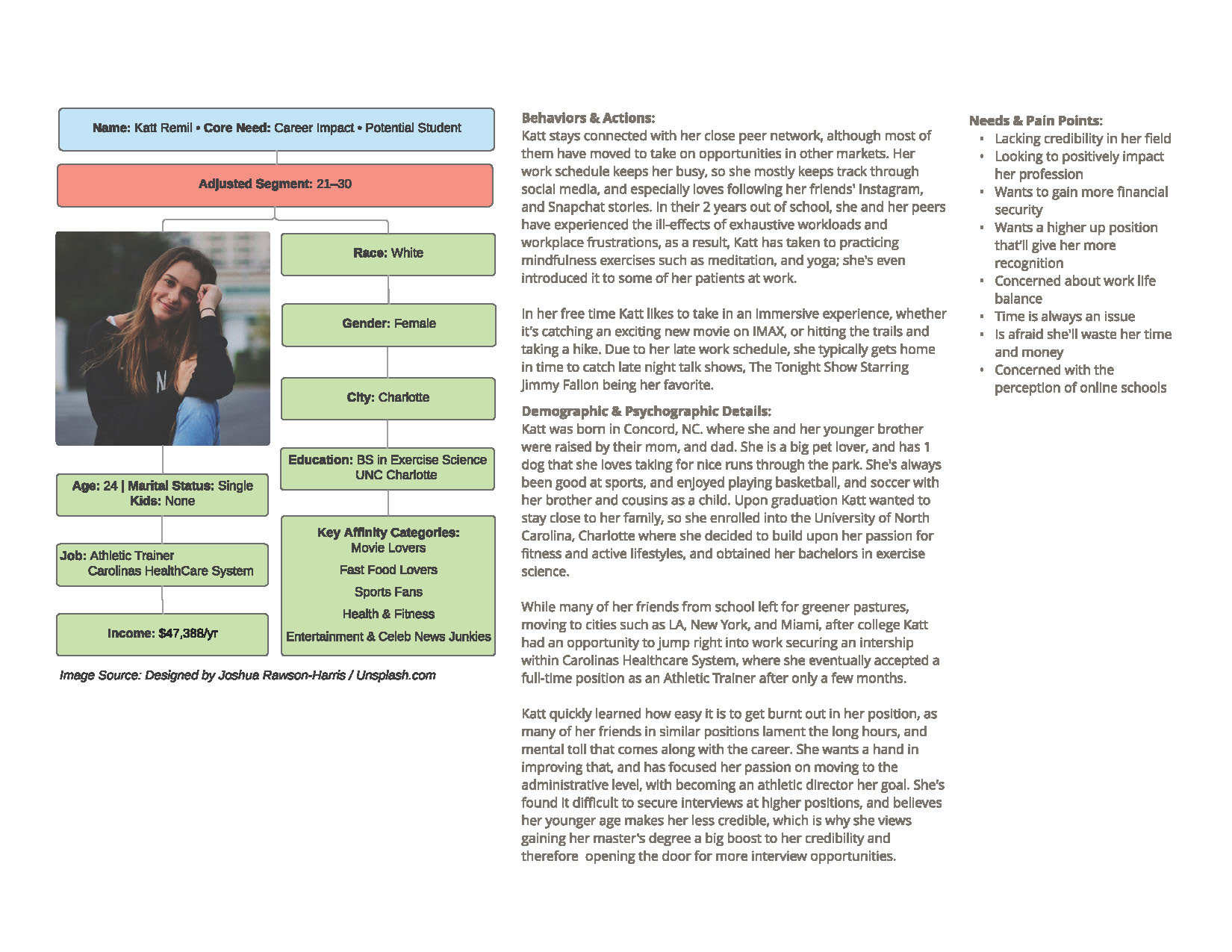 With personas developed, my team began to examine the user journey through two key conversion points (RFI submissions, and Live Chat interaction) to understand where user pain-points lie within the content, design, and hierarchy of the UofM Masters in Sports Administration.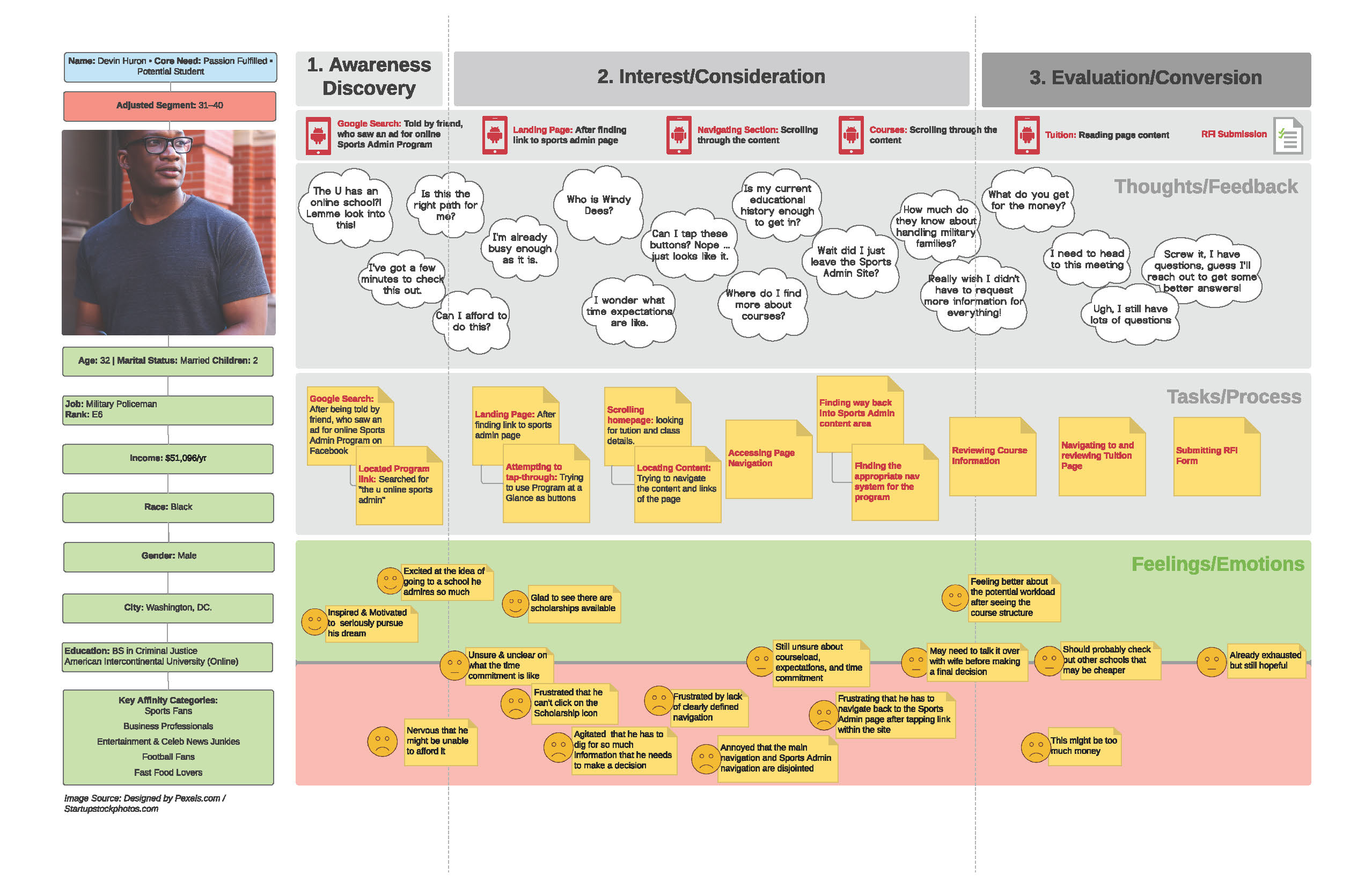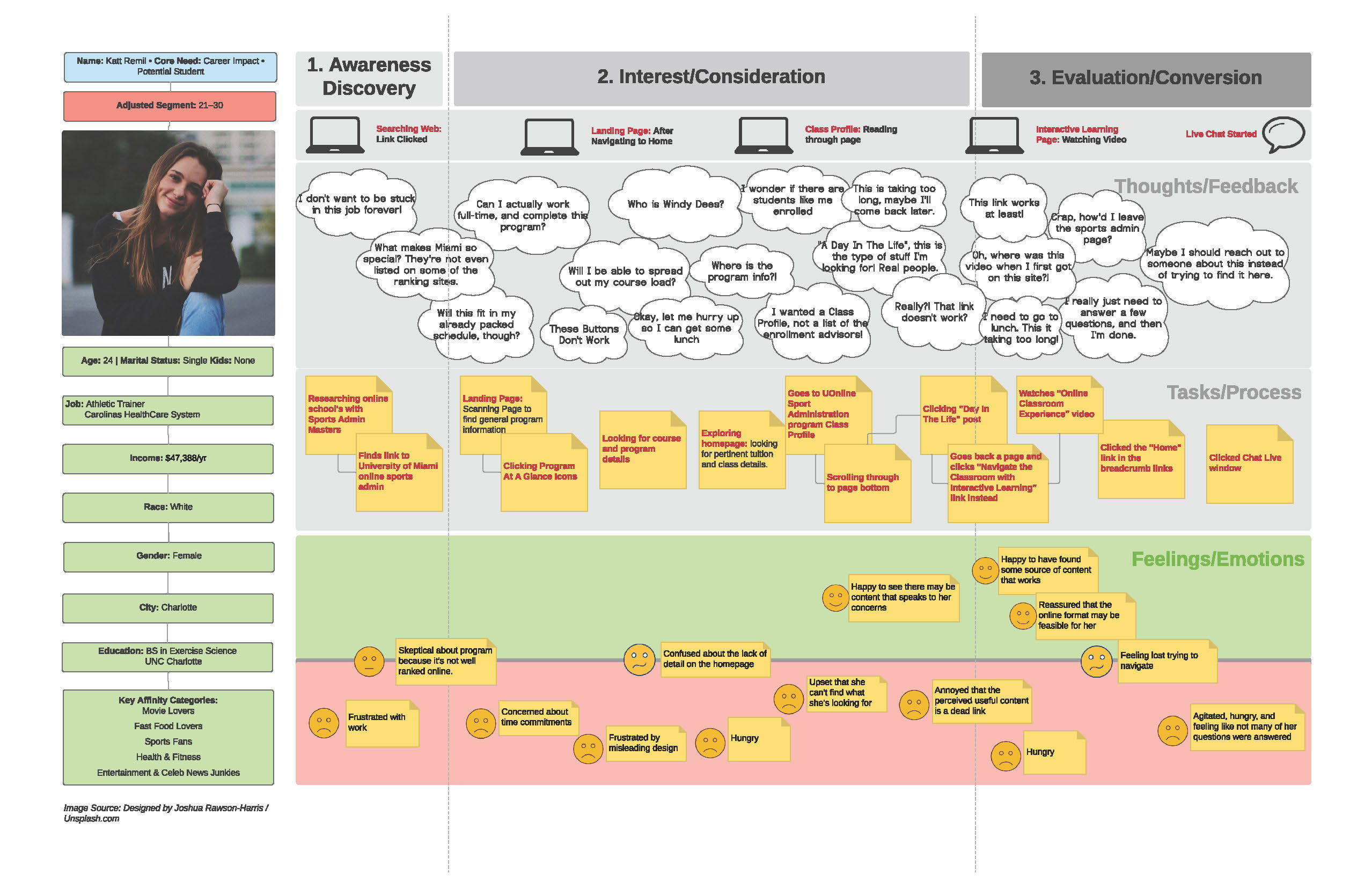 Upon completion of the user persona and journey development phase, I began a focused audit of the UofM's Masters in Sports Admin program website, outlining issues revolving around content structure, information architecture, user experience, and a host of other pitfalls that may hamper success. Also developed was a list of suggestions and best practices—aligned with the previously approved KPIs & KSAs—that they could take advantage of to meet their underlying goals.
The Outcome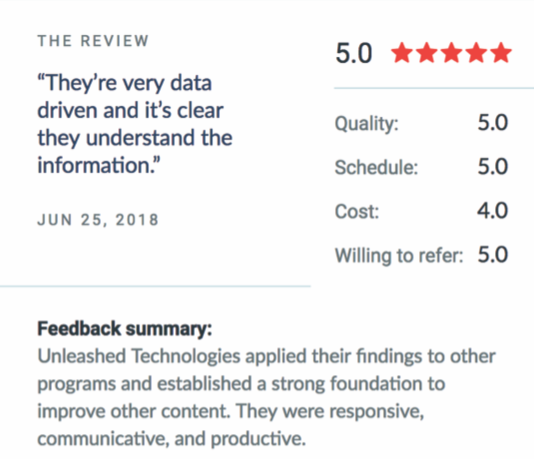 After presenting my findings, and foreseen strategy to the client the response was resoundingly positive. Since the introduction to this audit, many of the suggestions have been implemented, and it continues to be a source of authority to help them improve the user experience throughout their online programs.
Additionally, this audit helped Unleashed Technologies to secure Laureate University and the University of Miami as a longer-term client, securing a  $1+ mil/yr contract to help advance their growth efforts.