Organization: AIGA Baltimore
Client: AIGA National
What: Innovate Grant Concept Proposal, and MVP execution
Why: AIGA Innovate is a four-year long fund with up to $250,000 to be awarded each year. Established in 2015, it aims to support and empower members and chapters in a whole new way. The program operates as an exchange platform through which AIGA can learn about its membership improve the sustainability and leadership challenges of the chapters, and the relationship of designers to their respective communities.
Role: Concept & Proposal Development, Brainstorming Facilitation, Creative Direction, Project Management, Video Production Conceptualization
Problem: Provide a game-changing idea to improve the AIGA member experience, impact the wider community, and make it scalable to other chapters across the country, while also being sustainable after the initial grant period.
PART 1:
The Proposal(s)
As the AIGA Baltimore board, we started with a core team of decision makers: Kerry Korrer (Social Design Chair), Vanessa Ulrich (chapter President), and myself (at the time as Programming Director). This team was tasked with directing the strategy and execution of the proposal generation process.
As a small team we quickly realized that developing an idea that needed to be innovative would require the input from the greater creative community. We decided to develop an event offering intended to bring community members all into the same room to discuss problems affecting the creative community, and the larger community as a whole. See event promotion: https://baltimore.aiga.org/event/aiga-innovate-idea-generation/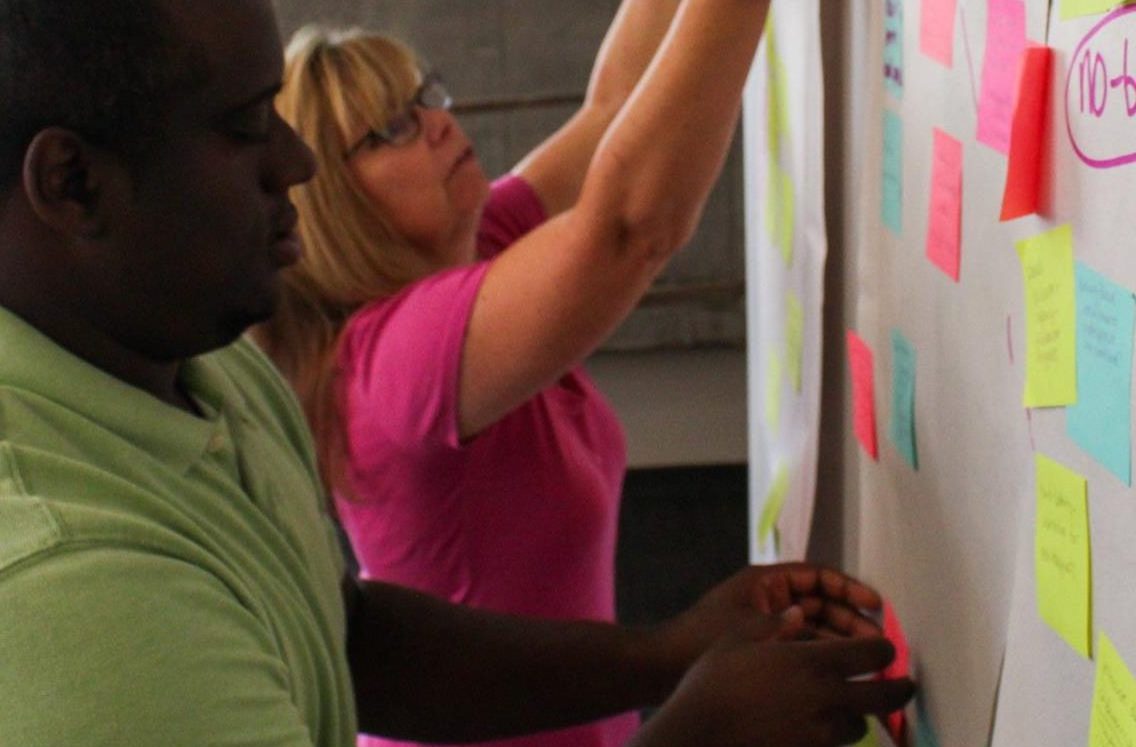 At the event attendees were broken out into small groups where they rapidly generated concepts on Stickie Notes, and then discussed the priority, key themes, & feasibility of said ideas.
From this ideation session we compiled a list of 15 ideas that were deemed both feasible, and important. Unable to realistically create 15 new proposals for submission, we narrowed the list down to our 3 best ideas for which to build proposals. From here the core team divvied up the ideas, wrote, and submitted detailed proposals outlining concept, projected impact, timeline, execution plan, and grant funding required to accomplish an MVP candidate within 1 years time.
PART 2:
Initiative Execution
After nearly a 6 month process, which saw multiple rounds of consideration, and refinement on our three proposal ideas AIGA Baltimore was notified that, of the numerous proposals AIGA National was to choose 3 of, we had been awarded not just 1, but 2 of our 3 proposed concepts, totaling upwards of $20,000 in grant funding. Not expecting to have to execute two proposal concepts in 1 years time, our team went into planning mode.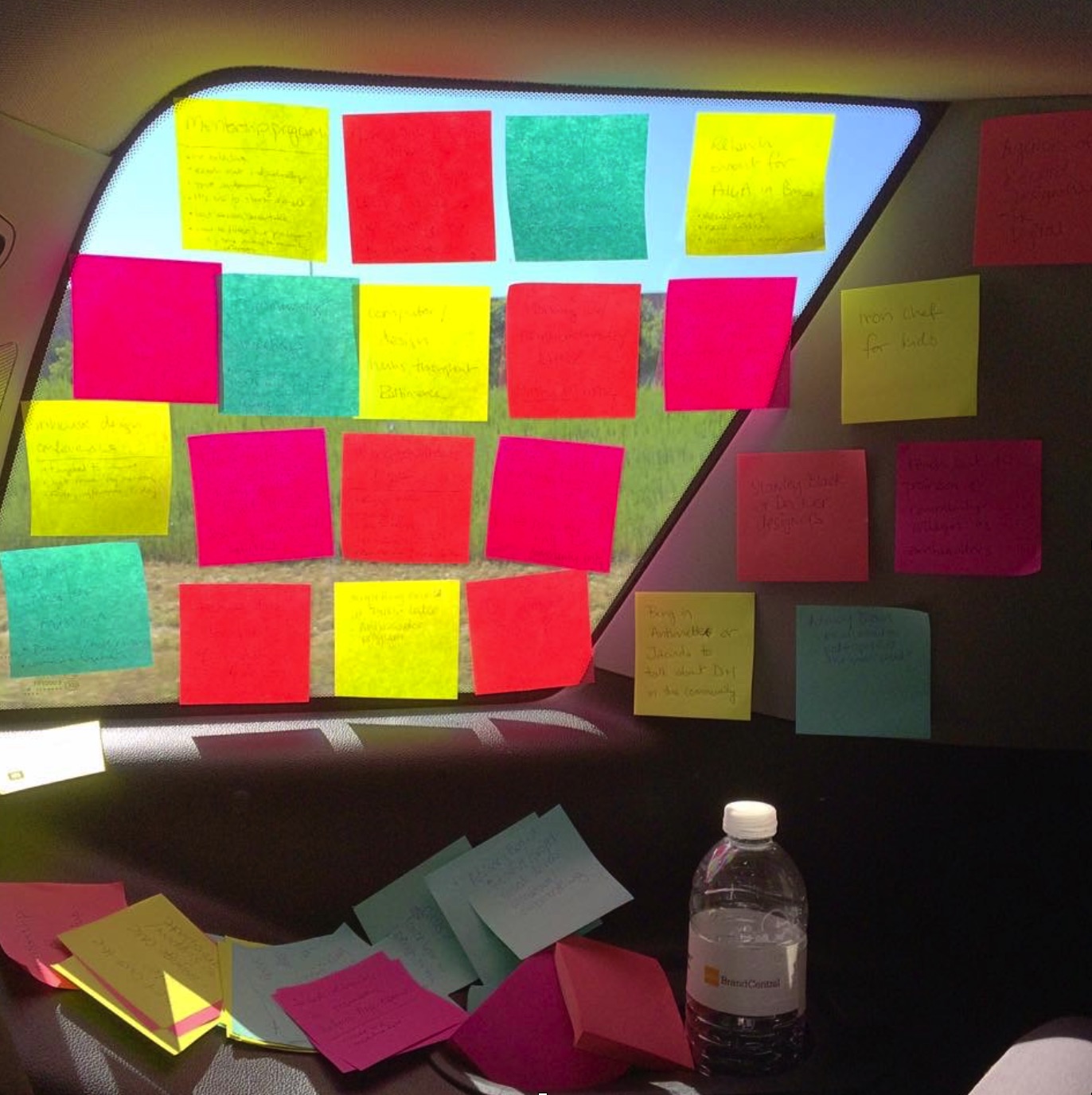 On the car ride back from AIGA's National Leadership Retreat in Raleigh, our team began strategizing a plan of operation, and execution for not just the projects, but also our chapter.
We followed the car ride with a share back session with the rest of our board, at our August board retreat and began implementation for our plan of action. We further aligned on the needs, responsibilities, and considerations to execute our plan, and discussed the plan for communicating the news to our community members. This resulted in the creation of a new community meeting formatted event, which brought together community members, allowing us to keep a finger on the pulse, as well as have a tool to educate on our work, simultaneously building a committee of members to help execute our plan for our two winning Innovate Grants.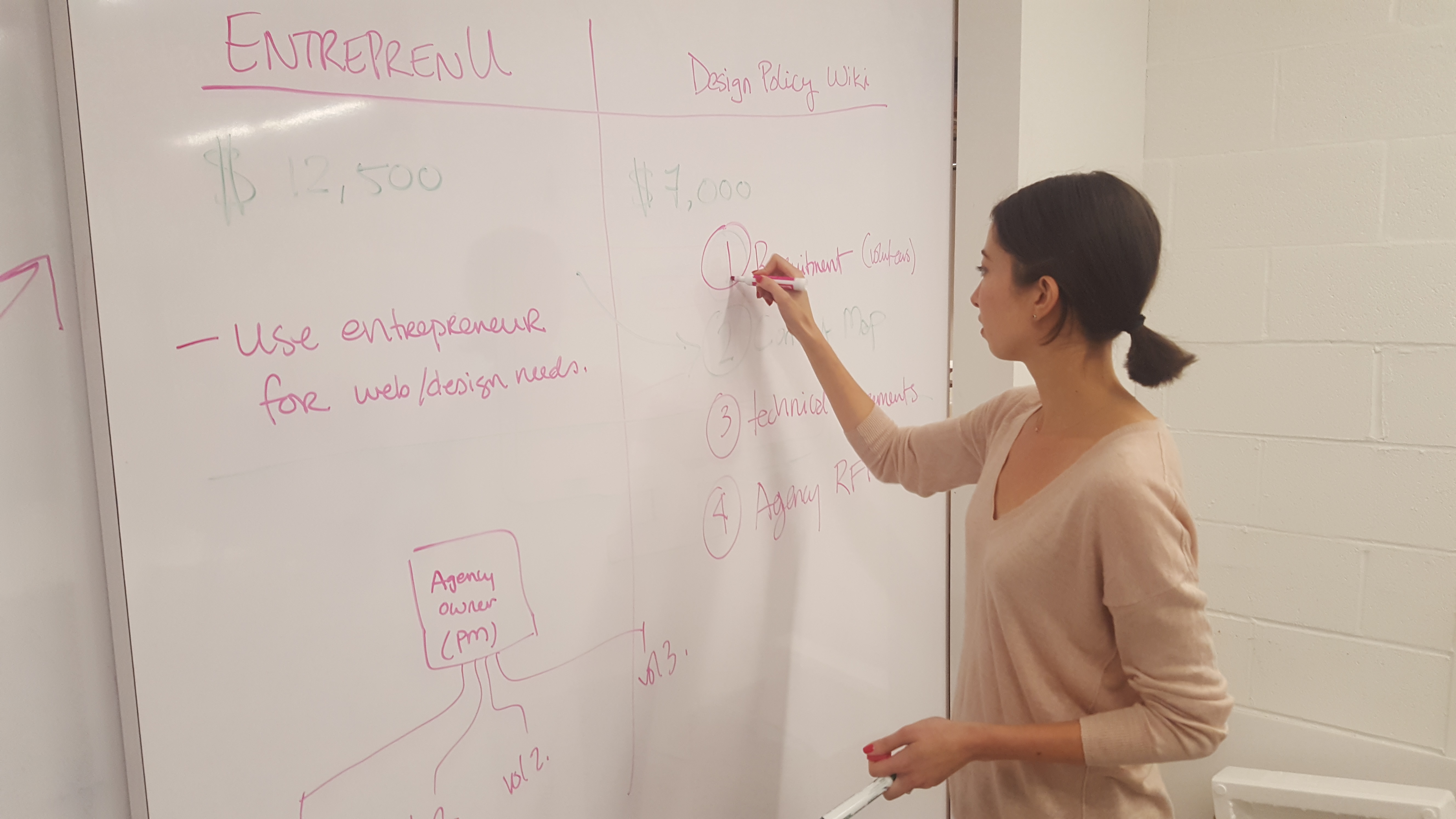 During the community meeting we identified interested members, who then became our key committee members to push forward our execution plans. With these new committees in-tact, myself, and our chapter President split the responsibilities of leading the teams. I acted as team lead for EntreprenU (later renamed: YouLaunchIt.org), and Vanessa leading the PolicyDesigned.com team.
PART 3:
The Outcome
With our teams settled, we scoped out a content strategy, and with our agency partners at Orange Element began to push forward the development of our initiative platforms. Over the next 6 months we would meet, brainstorm, gather content, and develop MVP candidates for the two initiatives. Upon wrapping production of the sites in early may, I then led the development of a documentation video, with AIGA Baltimore's video sponsor, Stereoscope Studios to be presented to the AIGA National Leadership, at the 2017 Leadership Retreat in Dallas.